Cadet Takes NTEA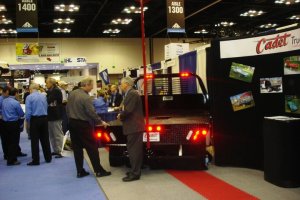 Once a year, technical engineering representatives, industry professionals, suppliers, and customers gather together at one place—The NTEA Work Truck Show. At the show attendees have the opportunity to view the newest products within the work truck industry as well as choose from many training courses which focus on the industry. Because hundreds of industry professionals are in attendance, the show brings about an excellent networking opportunity and provides people with chances to make appointments with suppliers and customers, brainstorm new ideas and solutions, or simply talk shop. We at Cadet are proud to have had the opportunity to attend The Work Truck Show for several consecutive years. The connections we have made and knowledge we have walked away with are invaluable. We look forward to seeing you there next year!
A New Website for Cadet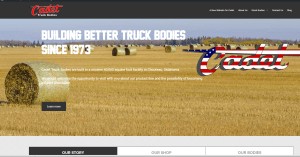 Welcome to Cadet's new website! We hope you find it as informative as it is useful in guiding you towards choosing the best truck to meet your needs. We offer 8 standard models in steel, and we have provided you, the customer, with the specs of each truck to allow you to be able to compare models. Still have questions? Feel free to contact us by filling out the form on our Contact page or giving us a call. We pride ourselves in our customer service. We are here for you! Because we know your time is valuable, we have made sure our new website is simple, easy to navigate, and practical. Cadet Truck Bodies thrives on efficiency, and our website reflects that. Spend less time searching and more time reviewing what really matters to you. Cadet Truck Bodies is always growing and always improving to better meet your needs. However, our vision to be the best truck body manufacturer in the business by continually improving products, listening to customers and exceeding their expectations on a daily basis stays true. Thank-you for celebrating this exciting new website with us!